Marci and I made our way out to the
Edward Gorey House
on the Cape in a small town called Yarmouth Port. If you're wondering how we decided to go all the way out there from California just to see his house, well, we just did. I read this book called
Ascending Peculiarity
, which is a collection of interviews with him, and we've both always liked his work (we're trying to make a small Gorey library).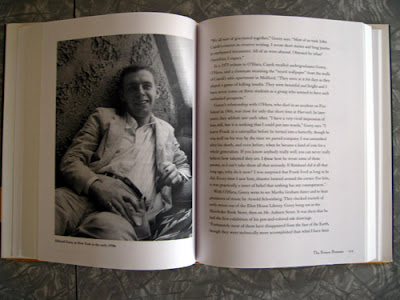 But the main reason why we planned a visit to his house was 'cause we went to an exhibition of his drawings for Dracula at the
Cartoon Museum of Art
in San Francisco. The placard said his stuff was on loan from the Edward Gorey House, we looked it up online, and decided we should go there. That, and it was a good excuse to see a little bit of New England. The extent of my East Coast travels has been, uh, New York City, 4 times.
We had to do some stuff in New York, then we made our way to Providence where we were staying with our friend Shea'la, and then got a bus to Hyannis, which I guess is the main town on the Cape. It's weird, apparently JFK used to hang out there a lot. If you walk down main street everything is named after him. We only walked down three blocks to buy taffy, but we saw his name everywhere, and they also had a museum for him. Which, you know, I have nothing against it, but it's kind of creepy. I mean, they sell mugs with pictures of his family on it.
So we got off at the Hyannis Transportation Center. By the way, on the way to Hyannis Marci and I were the only people on the bus. We didn't have a car so we took a cab ride from there to Yarmouth Port, which was about 4 miles away. We arrived a little early for check-in, so we dropped off our bags and made our way to the Edward Gorey House, which was next door to the Inn we were staying at.
The first thing you see when you get inside, other than the dude manning the gift shop, is the Ombledroom, which is this 23 lb cat. The cat didn't belong to Edward Gorey, I think it just showed up one day and they decided to adopt it. They had a cat naming contest, and Ombledroom won. It comes from the '
The Everyman Book of Nonsense Verse
'. The quote that got repeated to us everytime we were petting the cat was, "
The Ombledroom is vast and white, and therefore visible by night
".
He's pretty friendly. Apparently he lost some weight (down from 26, I think). He also talks a lot. He demands a lot of pets.
Mystery
was my first experience of Edward Gorey's work when I was a kid.
A newspaper clipping of Edward Gorey in front of the
Dracula
set.
I thought it was pretty cool he had a Poirot poster around.
What he used to dress like.
His Harvard Scarf.
Passport.
Dracula Sheets.
He never cooked, so his kitchen was just full of rocks that he collected. Some of them he just liked they way they looked when wet, so they're just in bowls or under small fountains.
He didn't use his kitchen very much and ate at a restaurant called Jack's Outback at least twice a day. We found it and ate there the next day. It was a little hard to find cause it's behind another building, and there's a small stretch of parking lot till you get there. There also isn't a real visible sign for the place unless you walk up there.
Some liberties were taken with this combination. The colors don't match up.
An unfinished page.
His sketches were pretty loose.
Notice the kitten.
They also had things he collected. Like this Cape Cod Cat (notice the map of the Cape).
Afterward we didn't really know what else there was to do. We checked into our hotel and then I went online to look up where my bank was. It was down the street a little more than a mile away, so we went walking towards it.
There were a bunch of Pre-colonial houses on the way there.
We went to the post office to get stamps for postcards to send home to friends. There were a bunch of historical buildings in the back lot, but they were filled with mostly non-historical stuff. There was a gift shop that was closed. We found a path into the woods and walked down it for a bit. All the trees were so different- like if you were in a forest in California it'd just be filled with large redwoods. It was really interesting for us, but probably not for anyone else.
Passed by Parnassus Books where Edward Gorey used to sit on the floor and read. We went inside and Marci picked up a book called "
Haunted Yarmouth
". Pretty much all the houses we saw had a haunted story to go with them. They all involved sea captains.
Honor System.
Marci reading "trash" again.
Of course we followed the sign to the Cemetery.
Which lead us to Dennis Pond. The water was so clear.
We stayed at the Colonial House Inn for our one night on the Cape. In the book, 'Haunted Yarmouth', it states that the Colonial House Inn was the most haunted place in all of Yarmouth. In the converted Carriage House where we slept, a stable boy hung himself. But the main house was super creepy. The room we slept in used to be Edward Gorey's publisher's favorite room. Sorry, we forgot to take a picture.
The next morning we got up pretty early and made our way back to Dennis Pond so Marci could swim in it. She's not posing for this photo, it was just a little cold at eight in the morning. Then we went to Jack's Outback for breakfast.
We checked out and waited for our cab. Our cab driver was pretty awesome and told us a bunch of really good ghost stories.
We were going to a potluck in Providence so I picked up a box of taffy to bring. The candy store was three blocks away so we had to walk through all this touristy stuff in Hyannis. We walked past the bank that just got robbed, Marci got some tea from some East Coast hippies (who were really creepy), and I got this awesome chocolate shake from Ben and Jerry's where there was this cute group of old ladies who seemed like they got together there a lot.
Marci finished her book while we waited for our bus at the Hyannis Transportation Center.